Russ Lyon Realty Company has made Arizona its home for more than 60 years.
Russell Lyon, Sr. founded Russ Lyon Realty Company in Phoenix in 1947. Mr. Lyon's son, Dennis, joined the company in 1957 as a sales associate, was appointed president and CEO in 1968 and currently serves as chairman.
Russ Lyon Realty Company is home to over 650 licensed sales associates operating from 14 offices throughout the Valley, including Prescott, Sedona and Flagstaff. On a annual basis, Russ Lyon Realty Company sales associates handle close to $2 billion of real estate transactions on behalf of more than 4,000 customers.
The company attributes its enduring success to the Lyon philosophy of:
providing sales associates with the support that fosters individual achievement.
maintaining a brand image associated with quality and professionalism.

Affiliations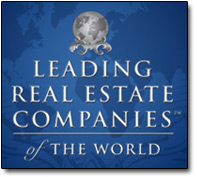 Russ Lyon Realty Company is a member of Leading Real Estate Companies of the World, the first national relocation service organization, established in 1960, and the country's largest network of independent real estate firms. The companies affiliated with Leading Real Estate Companies of the World sell 1.4 million home annually, more than any other national organization or brand.

Ranking Arizona: The Best of Arizona Business 2007
#1 Real Estate Company
Celebrating its 60th anniversary in 2007, as one of Arizona's most successful real estate brokerage firms, Russ Lyon Realty Co. continues to offer premier residential, relocation and commercial real estate services along with mortgage, title and home warranty programs. Russ Lyon Realty Company is affiliated with Leading Real Estate Companies of the World, an international real estate network, and Luxury Portfolio Fine Property Collection, which executes more luxury home transactions exceeding $1 million than any other single real estate entity. The company brought Arizona real estate to the national and international forefront for the world to consider. For six decades, Russ Lyon Realty Co. and it's 650 knowledgable and dedicated sales associates have worked diligently to represent a wide range of clientele varying from the exclusive luxury home market to the first-time buyers. Over the past 60 years, Russ Lyon Realty Co. has exceeded the parameters of a family owned business and expanded to 14 offices, with additional independently owned real estate franchises in Prescott, Sedona, Flagstaff and Williams. Russ Lyon Realty Co. and its sales associates are honored and privileged to have served generations of clientele in Arizona and across the United States. Since 1947, our name is synonymous with fine properties.
RELO National Home Search
RELO National Home Search is a service that allows relocationg consumers and second home buyers to search for homes for sale nationally and internationally by linking directly to nearly 650 leading real estate companies of the world across the nation. Potential clients in the U.S. and throughout the world have access to Russ Lyon Realty Company listings by using a National Search link on a RELO National Home Search member Web site.